Robbie Rotten/We Are Number One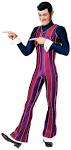 Origin
Robbie Rotten is the antagonist of the popular Icelandic children's TV Show LazyTown. The premise of LazyTown revolves around a town in which the residents are "lazy" and do not enjoy exercise.

The Robbie Rotten memes began in October that year when Stefán Karl Stefánsson, the actor who plays Robbie Rotten, announced that he was diagnosed with pancreatic cancer and was going to have surgery. A GoFundMe page was established by LazyTown head writer Mark Valenti to help the actor as he endured his illness.

Memes about Robbie Rotten skyrocketed when the Internet was introduced to 'We Are Number One' a song from the LazyTown episode 'Robbie's Dream Team'. Robbie's Dream Team is Episode 12 of Season 4 and the plot features Robbie Rotten cloning himself 3 times to create his "Dream Team", but his clones do not understand how to be a villain, so Robbie must teach them how to be a villain.